Start trading Forex in Uganda: The rapidly growing economy of Uganda creates the perfect space for investors to take a keen interest in forex trade deals. Many people are building their wealth by trading Ugandan shillings (UGX) for international currencies that are gaining value in the market. 
Want to jump straight to the answer? The best forex broker for most people is definitely FOREX.com or CedarFX.
Start with our guide for everything you need to know to get started with forex in Uganda.World's First Eco-Friendly Forex BrokerCedarFX offers an Eco Account option, which includes a $1 commission for every lot traded. 100% of commissions paid are matched by the broker and used to plant trees.
Read: How to Buy Bitcoin with credit card in Uganda
Get Started with Forex in Uganda
Uganda has a history of switching currencies. Before the 20th century, the Indian rupee (INR) was widely used as a local currency throughout Uganda, Kenya and Tanganyika. The East African Rupee replaced the Indian Rupee as the primary currency in 1906. It was later replaced by the East African florin in 1920.
Within a year of the East African florin's circulation, The East African Currency Board introduced the East African Shilling. Following the establishment of the Bank of Uganda in 1966, the 1st Ugandan shilling became the official currency.
The Uganda Forex Bureau and Money Remittance Association (UFBMRA) is the authoritative body of forex bureaus and money transfer operators in Uganda. A non-profit, non-governmental, member-based organization, the UFBMRA was officially inaugurated in 2001 by the Governor of the Bank of Uganda.
The UFBMRA launched the forex trading Code of Conduct, which was intended to guide the forex bureau to ensure high ethical standards and fair play while carrying out business. Unfortunately, due to the lack of forex brokers in Uganda, many people depend on offshore brokers to trade forex.
Ready to try your hand at forex trading in Uganda? Here's a step-by-step guide to help you get started.
Step 1: Get a digital device with fast internet connectivity.
You can use your desktop, laptop, tablet or smartphone to trade forex. The value of the currency pairs listed on the stock exchanges frequently fluctuate. A personal device to constantly track these changes is essential to successful forex trading.
Step 2: Find an online forex broker.
There are many forex brokers available online. Be sure to choose a broker that lets you trade currency pairs with UGX.
Check the footer of each broker's website for information on the regulatory bodies. If you can't find any such information from the Securities Exchange Commission (SEC), the Financial Industry Regulatory Authority (FINRA) or other regulatory bodies, the broker
can't be trusted.

GET STARTEDsecurely through FOREX.com's website
GET STARTED securely through eToro's website Disclosure: eToro USA LLC; Investments are subject to market risk, including the possible loss of principal.

GET STARTEDsecurely through AvaTrade's website More Details
Step 3: Sign-up for an account.
You can open a new account online with the forex broker. Some forex brokers require a minimum amount of deposit to open an account. These brokers also offer different kinds of accounts based on your financial goals. Choose the 1 that's right for you.
Step 4: Transfer funds to your account.
Once you've signed up for an account, you need to transfer funds to start trading forex. Depending on the broker you've chosen, you can choose your native currency and fund your account using several options. Generally, these funding options include bank transfers, wire transfers and debit cards.
Step 5: Download a forex trading platform.
You need to download the forex trading platform on your computer or smartphone. Take the time to customize the look and feel of the platform to help you maximize forex trading opportunities.
Step 6: Begin your forex trading journey.
Before you start trading forex, run a few demos using virtual money. These demos can help you get used to the interface of the forex broker without conceding unnecessary losses. After you feel confident using the platform, you can start trading forex using real money.
Uganda Forex Trading Strategies
Experienced forex traders rely on tried and tested strategies to make bigger profit margins and cut losses.
These forex trading strategies can include:
Range trading
Range trading is a strategy that involves identifying predictable patterns of highs and lows for specific forex currency pairs. You can look at past performances of these currency pairs and monitor their price movements to spot favorable time durations and days that the dips and peaks occur.
Position trading
Position traders have a long-term outlook on the forex currency pairs. This method of trading requires you to buy-and-hold your forex currency pairs until there is a significant rise in their price movements. With this strategy, you can look past minor changes in daily prices. It can take months or even years before you sell but the profit margins are bound to be higher.
Scalping
Scalping is a forex trading strategy that involves making multiple trades within minutes after small price movements take place in the market. This short-term strategy is time-consuming and rapidly tracking changes is critical to make it work. If you're not fast enough with your trades, you may encounter slippages that can slowly eat away at your profits.
Day trading
Day trading is a forex trading strategy that requires you to exit all your positions by the end of the day. This strategy is great for short-term traders who do not have the time to constantly monitor the market. You can trade once or twice a day to avoid major price volatility caused overnight.
Swing trading
It can be hard to find lucrative forex trade opportunities in just a few days. In this case, you can apply swing trading strategy by identifying market upswings and downward spirals during the week. This mid-term forex strategy can help you overcome minor price dips of the currency pairs while the international market becomes more stable.
Forex Trading Example in Uganda
Ugandan shillings have a surprisingly long list of forex currency pairs available to trade. Some of the most liquid currency pairs include USD/UGX, EUR/UGX, CAD/UGX, GBP/UGX and AUD/UGX.
Among the mentioned, the USD/UGX is particularly popular among forex traders. For instance, you can consider buying $10,000 worth of USD/UGX at a ratio of 1:3675. At 3,675 shillings per dollar, it will cost you 367,5000 shillings to buy $10,000.
In a month, the price ratio of the currency pair would have risen to a price ratio of 1:3700. By selling your $10,000 worth of USD/UGX, you can earn a profit of 25,000 shillings in just 30 days.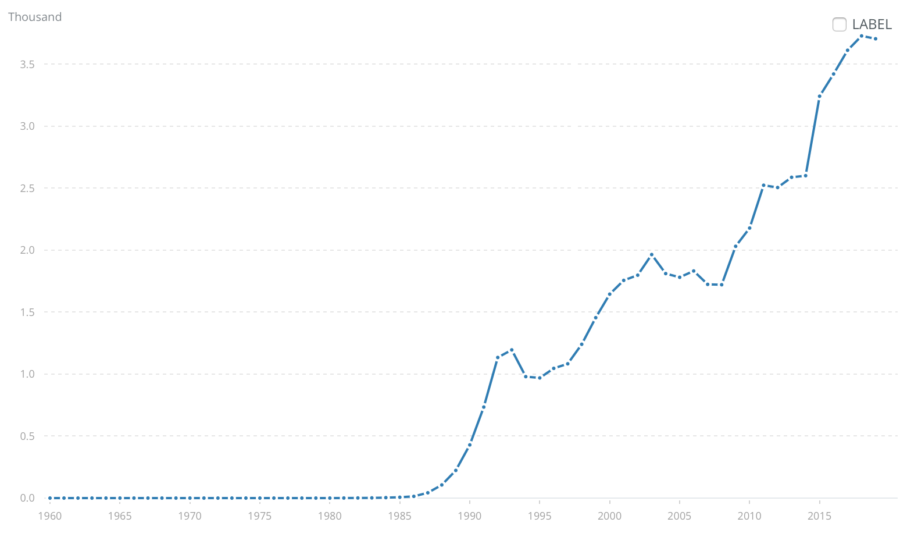 Historical USD/UGX rates
Making Money with Forex in Uganda
Forex trading has been catching up with the Ugandan population. In the last few years, it has become 1 of the most active forex traders in Africa. The USD/UGX and the EUR/USD have higher trade volumes compared to the rest of the forex currency pairs.
The advent of wireless technology has boosted internet accessibility across Uganda. Thousands of Ugandans have taken advantage of the progress and have started trading Ugandan forex for better returns. Although this has decreased the cost of trade, it has also increased local competition.
Best Online Forex Brokers in Uganda
An online forex broker allows you to trade currency pairs on the market. These platforms offer powerful tools to elevate your trading experience. Some of these brokers offer leverage on your trades, meaning you can borrow a certain amount of money on each forex trade executed from your account.
Benzinga has curated these top forex brokers available on the market.
Forex Terminology
Before you make your 1st forex trade, you need to learn certain terms and definitions. These jargons are widely used by forex traders around the world.
Pip: the smallest unit of price movement. Generally, forex currency pairs are listed up to the 4th decimal point. If the price of UGX/USD changes from 0.0002 to 0.0004, it is considered a move of 2 pips.
Lot size: the total number of currency pairs that you want to buy or sell. The standard lot size is 100,000 units. A quantity less than 100,000 units is called a micro-lot.
Orders: you place an order to execute a trade. If you want to buy 100 units of USD/UGX, you place a buy order. Similarly, if you want to sell 100 units of USD/UGX, you place a sell order.
Calls: the forex broker issues a call to your account when you have a trade position open and is in need of additional funding. These calls are precautionary notifications sent by the broker to help you avoid unnecessary losses.
Learn to Trade Shillings Successfully
Stock traders in Uganda are slowly shifting their focus towards forex. Getting the latest financial education about the forex market and staying up to date on global news can give you the edge you need to start trading shillings successfully. Bookmark trendwires keep on top of forex trade in Uganda.World's First Eco-Friendly Forex BrokerCedarFX offers an Eco Account option, which includes a $1 commission for every lot traded. 100% of commissions paid are matched by the broker and used to plant trees.
Get a Forex Pro on Your Side
FOREX.com, registered with the Commodity Futures Trading Commission (CFTC), lets you trade a wide range of forex markets plus spot metals with low pricing and fast, quality execution on every trade.
You can also tap into:
EUR/USD as low as 0.2 with fixed $5 commissions per 100,000
Powerful, purpose-built currency trading platforms
Monthly cash rebates of up to $9 per million dollars traded with FOREX.com's Active Trader Program
Learn more about FOREX.com's low pricing and how you can get started trading with FOREX.com.